.
Since the start of the festival "Muzica Suprimata" in Transylvania in 2011, Moritz Ernst is one of the constitutional artists of this festival. During this festival he presents music from the gigantic repertoire written by abandoned composers. He started with the two Schoenberg pupils Norbert von Hannenheim (born in Sibiu) and Viktor Ullmann. Both of them were born in 1898, both of them were born into aristocratic families, they both were pupils of Schoenberg and won the Emil-Hetzka-Price (by Universal Edition), but the works by both of them have only been self-published.
They both came to their inner borders in a dramatically changed time of the Holocaust. They both did not fit the new political landscape, nor as composers, nor as human beings. So they both ended up through the hands of the Nazis...
Due to those circumstances big parts of their achievements are lost, although the loss of works by von Hannenheim seems much bigger than in the case of Ullmann.
What are the differences between the two composers?
Very big ones! Von Hannenheim uses a very characteristic "colourscheme" and melodic lines of such a cool sort of beauté, that took me some time to realize after having a look at his pieces for the first time. His melodic alignment is very clear and besides his strict polyphone writing of an extraordinary clarté. He hardly gives any performance hince - and you hardly ever miss one! His formal writing is impressively derived from the structure of his long rows (up to 54 notes!) he often works with.
A new harmony between tonal and dodecaphonic writing - Viktor Ullmann himself spoke about "polytonality" - is characteristic for the work of him. Combined with a masterly feeling for structures, he created works much more dedicated to tradition than those of his contemporary, von Hannenheim. In any case he achieves the same deep expression as von Hannenheim, combined with a very demanding pianistic approach.


------------------------------------------------------------------------------------------------------------------------------------------------------------------
Due to his commitment for the microtonal music by Ivan Wyshnegradsky, Moritz Ernst got in touch with composer Bernfried Pröve. Primarily only because of his interest in his works for the 1/16ton-piano, quickly a lively disput established itself. This interchange culminated in the recording of the entire piano works by B. Pröve on edition zeitklang on seven (!) CDs.
The first volume was published in January 2013.

Bernfried Pröve, born in Braunschweig the 6.1.1963, studied composition, music education and organ at the "Hochschule der Künste" Berlin. Following his studies with Isang Yun Pröve continued his studies with Klaus Huber (composition), Mesias Maiguasca (electronic music) and Francis Travis (conducting) at the Musikhochschule Freiburg. After receiving his degree in 1994 he studied conducting with Peter Eötvös and conducted the Vienna Klangforum.

Pröve wrote his thesis (D.E.A.) at IRCAM and the Sorbonne in Paris on computeraided composition (1995-96). Among his awards and distinctions are a first prize from the Stuttgart Composition Competition, a Grand Prix from the Jeunesses Musicales and the Prix Européen Belgrad. He received among others commissions from the SWR for the Donaueschinger Musiktage, the WDR, the Hamburger Staatsoper, the Staatstheater Braunschweig, the TAGE FUER NEUE MUSIK Braunschweig, the Staedtebundtheater Hof/Saale, the Jenaer Philharmonie and the Bibel & Kulturstiftung.

His music is performed at festivals all over the world, like Worlds Composers Forum in Montréal, as well as in Georgia and Philadelphia, the Donaueschingen Festival, Graz- Staierischer Herbst, Gaudeamus Amsterdam, the Centre Acanthes, the Festival d'Avignon, IRCAM PARIS and performed from Orchesters like the Hamburg Philharmonic Orchestra, Junges Philharmonische Orchester Stuttgart, Kraukau Philharmonic Orchestra, Beograd Philharmonic Orchestera, Dresdner Philharmoniker, Jenaer Philharmonie.
------------------------------------------------------------------------------------------------------------------------------------------------------------------

At the present moment (2008) Moritz Ernst is preparing a very special project:
The performance and recording of the complete works for solo piano of the famous English composer Sir Malcolm Arnold (1921-2006). Some performances in London and Basel are already fixed, others are in preparation. The same applies to his works for piano and orchestra.
Suggestions for all Arnold programs (duration 50 and 90 min) you can find below.
Of course Moritz Ernst also suggests programs featuring Arnold's position in his time or even in the context of the whole history of piano music. Please ask about this.
Further information on Sir Malcolm Arnold you can find at
www.malcolmarnold.co.uk .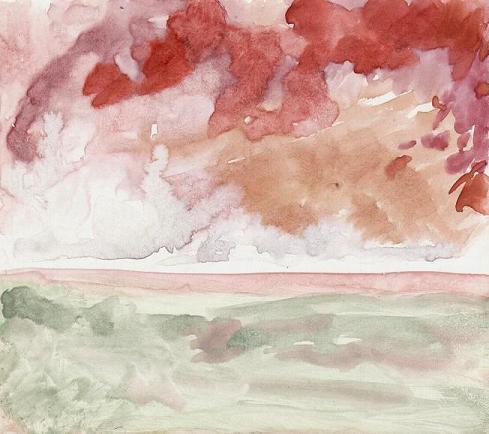 Aquarell, Gerhard van der Grinten (2007)